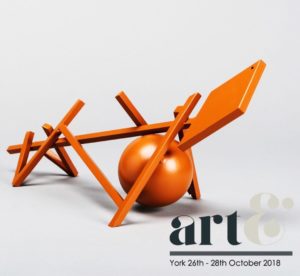 As one of the 2018 winners of the Art& RAW Talent mentoring scheme, Urbanized Neckwear is proud to be exhibiting at the Art&York 2018 show this October.
Set at the prestigious York Racecourse, Art& show 2018 is a fantastic opportunity for collectors, buyers, art lovers and anyone else who is interested in meeting artists and buying unique art works to come along to a friendly, accessible and affordable show.
Set over 3-days the art& show has over 120 artists work for sale & commission from a wide price range of £10-£10,000+. It is a chance to meet the artists, talk to them about their work and inspirations and buy and commission direct. Select artists and designer-makers will be showing a wide range of high quality and innovative work from glass and ceramics to painting and drawing, jewellery and textiles, sculpture and stonework and much much more.  In addition, there will be live music, interactive areas, workshops, demonstrations and a warm and welcoming atmosphere.
Date: Friday 26 October to Sunday 28 October 2018
Venue: York Racecourse, Knavesmire Rd, YORK
For further details on this event  visit: www.artand.co.uk/