As we say hello to a new month, I bid a fond farewell to October; the month in the UK calendar in which we dedicate to full heartedly celebrating Black history and one that ended for me with an unexpected but hugely welcomed Bang!
Last week I became a double award winner, being named as the Windrush Female Entrepreneur of the Year for both my hometown, Huddersfield and my region of West Yorkshire. Every award and recognition is special but when it has the title of the community in which you were born and raised attached to it, it somehow elevates you to a whole new level of pride.
As a person in business who has numerous labels that could be attached to my experience,  I am honoured, but in honesty also secretly nervous to be viewed by my peers as inspirational.  To me the term carries a weight that sets a person aside from others and suggests that they can do things that others can't;  I can tell you, I am an ordinary woman whose only power is the passion I have within me to create items that bring a sense of joy and happiness to the lives of others.  I often use the word 'passion' because I honestly believe that it is that deep love or belief in what one does or the determination to share the 'gifts' they were put on this planet to offer that helps to drive many entrepreneurs through the challenging periods of business.
Like most entrepreneurs and small business owners, 2020 hasn't been the year that I expected and certainly not the one I'd planned for.  It takes a special kind of spirit to be an entrepreneur at anytime let alone during a pandemic.  Being in business is like riding the ultimate roller coaster – it has highs, lows, twists and turns. Some days you're filled with a high sense of euphoria and other days floored with a sense of despair.  This year I've had to put many of my business ideas and plans on hold;  I had big plans to fill my business calendar by frequenting high-end artisan exhibitions and events up and down the country and push my public speaking services more – it turns out that every single one was cancelled!  Yet purely down to my passions, I have managed to stay focussed and progress.
Rather than dwelling on my losses (and there have been many) I have chosen instead to ride the wave of uncertainty by using the time it has given me to reflect on my brand's goals, think outside of the box and experiment with other ideas alongside my traditional Neckwear designs. As a result, I have been able to introduce new elements to my business such as my face mask designs and more recently my versatile wrap around harness belt range both of which have added a new dimension to my brand and have been well received by my customers.
Despite the current climate, throughout the year I have seen just within my own circle, an emergence of entrepreneurs and people seeking to achieve their dreams beyond the 9 to 5…  My humble message to them would be to keep going!  Living a life on purpose is beyond achieving any award and if observing my journey has inspired any element of that shift in others then my existence is richer because of it.
If I was asked to give my advice to any new entrepreneur, I would break it down like this:
1. Be driven by your passion but open to learning and trying something new.
2. Seek out your tribe. Being an entrepreneur doesn't have to be a lonely experience. There's many more beautiful souls like you who are waiting to connect.
3. Be patient. For many (maybe most) it can take years to see a breakthrough so if you're purely money driven it's highly likely you will be disappointed very quickly. Those who are motivated by passion whether that be a passion to succeed or a passion to share their gift with the world will be the ones who stick it out beyond the financially broke days.
4. Be authentic – Your business is a reflection of you!  In a world jam packed with choice and sameness, the only thing for certain that is unique and can never be copied is you so seek to inject a part of you in everything you do as this will set your business apart from any other.
So I say to all my fellow entrepreneurs – Keep going, keep dreaming, keep believing – bright days lie ahead!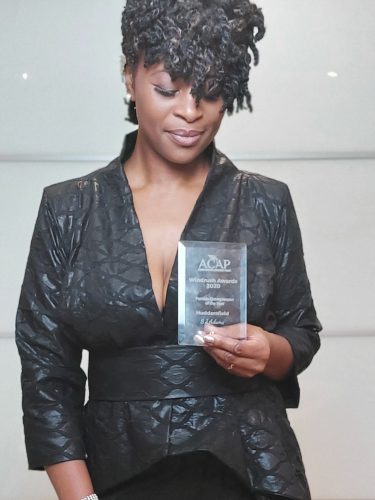 A huge shout out to the African Caribbean Achievement Project and a big thank you to all those who voted for me – my gratitude is endless <3