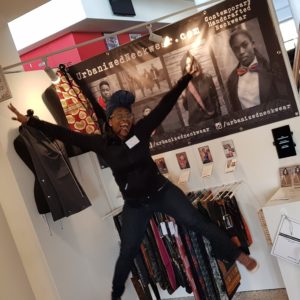 It's been over a month since my very first art exhibition and it is only now that I feel able to accurately reflect on my experience. As I package up and post my very last batch of orders taken from the event, I can breathe a sigh of relief that I entered into a process that was unknown to me and came out the other side equipped with a breadth of experience and a new set of skills that will help me to take my business to the level it deserves.
One of my biggest regrets in life has been mistaking my passion for a hobby for so long. My first memory of feeling true passion about anything was when I was about 6 years old. I was sewing a dress for my baby doll from an old scrap of white satin fabric my mum had given me. I recall painstakingly sewing each stitch by hand and as I did I continually pricked the flesh on my delicate young finger. But I didn't stop; not until my blood speckled dolly dress was complete. Even at such a young age, the buzz gained from the realisation that I had the power to create something beautiful from very little was much greater than my discomfort.
That 'buzz' feeling has never left me. Whilst I now rarely draw blood from my fingers, I still to this day gain a huge rush of excitement from the process of using fabric to create beautiful things. So winning a place as a Raw Talent Artist for Art&, one of the North's most prestigious art events was more than just a great business opportunity for me – it was a chance for me to wholeheartedly embrace the creative passion that I had rejected as a valid career option for so long and gain much needed critique from the public about my ideas and creations.
For six months, I planned and prepared for an event that I was unable to comprehend. I had done small local events before but never anything on this scale or magnitude. On the lead up to the event I spent hours and hours planning, designing, making, creating, problem-solving. There were moments where I felt a huge sense of pride for being brave enough to put myself through such a challenge and there were other times that I felt way out of my depth, overwhelmed with the amount of preparation I had to do and filled with doubt as to whether I had the ability to see it through with a level of success.
Despite my polarised thoughts I felt completely supported by my fellow Raw Talent Artists and mentors. We were working towards the same goal but for each of us taking part it meant something completely different.
Throughout the three days, demand for my creations was high and the overall reception of my business was phenomenal. I sold items and took orders for more. I'd never worked so hard in my life but the result was an event which was a sell-out success for me.
Taking part in Art& has completely changed my perception of art. It has introduced me to the concept of 'Wearable Art' and in doing so has opened up a whole new world of opportunity for me and my business. In so many ways I am beginning to understand that 'art' is relative and that in comparison to a painter, I see people as a canvas, fabric as the paint and a sewing machine as an easel. I feel an extra sense of focus now for the coming year and intend to use what I have learned to broaden my customer base and edge further to reaching my full potential and a designer and entrepreneur.