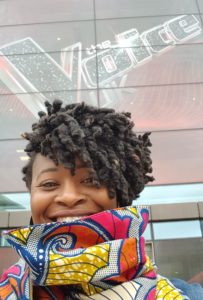 This week I rose to the challenge of chasing a potentially huge opportunity. I visited the studios of The Voice UK in Manchester with a clear mission – to meet two music mega stars: my ultimate style muse Will-I-Am and singing sensation Jennifer Hudson and personally give them their very own Urbanized Neckwear pieces.
I had visualised my designs around Will's neck a thousand times and had gone through in my mind step-by-step what I would say and do if the opportunity arose. However, the reality was surreal and way more intense than I could have possibly imagined. After hours of queuing and anticipation I was the very last person to be given a space in the studio audience. Surprisingly the seat was in pole position, perfectly placed for the execution of my plan. I used my lively character to make myself seen and heard and within minutes of them taking their seats, the judges sure enough saw and heard my presence. As Will looked in my direction, I gestured to my glittery boxes and quickly responded to his offer for me to come up on stage to present my gifts. There was no time to be star struck, I had to shine my light brighter than ever before. Audience eyes and studio cameras firmly fixed, I approached the stage with flamboyant moves reminiscent of an exhilarated TV game show contestant. As I handed over the boxed gifts, my excitement was clear. I told him of my admiration for his unique and innovative personal style and that he was my ultimate male style icon. I suspected my thick regional accent eluded him as he appeared transfixed on my words.
I choked back the tears as I gave him a big hug and whispered in his ear that I hoped he loved my designs. I looked to the side and saw that time was running out. My hands shook as I placed my design around his neck. He responded with a "Wow" and promised to take pictures and tweet them – I believed him but knew in my mind that I was prepared to pester him until he did. Time had almost run out, I turned to Jennifer and as I kissed and hugged her she promised to tweet pictures of her Neckwear too. I left the stage as I arrived, doing another flamboyant jig.
A minute and a half had gone in a flash. As much as we have come to rely on our gadgets to help us capture those special moments, this was one of the most amazing experiences of my life yet I have no photos to show (all the audience's phones had been taken upon entry to the studio). What I do have is a story to tell and images in my mind that will stay with me forever.
My leg of this mission is complete. My hope now is that Will and Jennifer keep their promise to complete there's, but for now I am satisfied that I did all I could do with the opportunity I was given to move a step closer to achieving my business dream.